A Day in the Life at WFC during the summer
Summer 2021 offered a portion of typical opportunities – outdoors, all with distancing, and masks when you are not with people with whom you are 'podded'.
When there is not a pandemic, each day offers many options.
Join as much or as little as you'd like.
To view more photos, visit our Photo Gallery.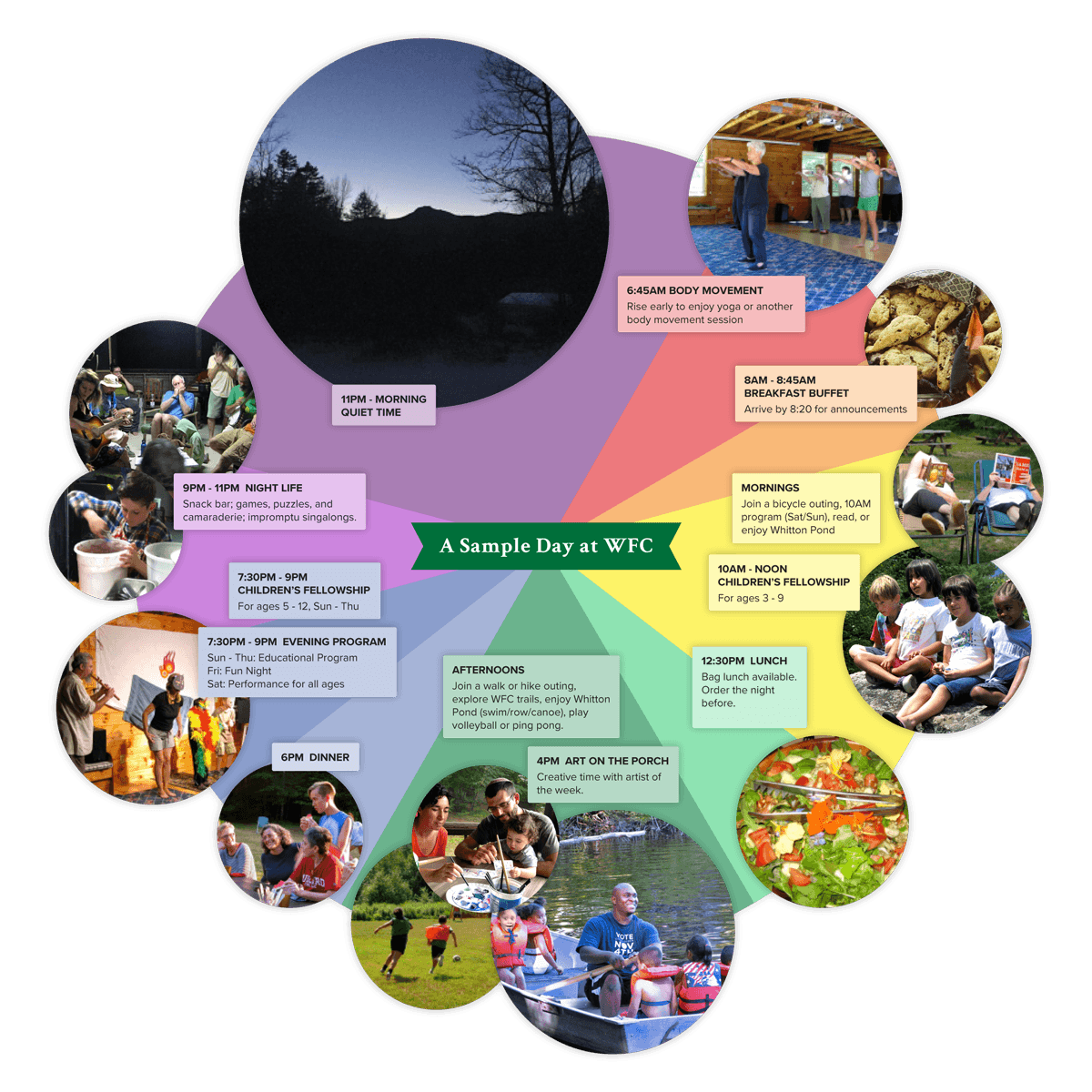 6:30 AM BODY MOVEMENT
Rise early to enjoy yoga or another body movement session
8 AM – 8:45 AM
BREAKFAST BUFFET
Arrive by 8:20 for announcements
MORNINGS
Join a bicycle outing, 10 AM program (Sat/Sun), read, or enjoy Whitton Pond
10 AM – NOON
CHILDREN'S FELLOWSHIP
For ages 3 – 9
12:30 PM LUNCH
Bag lunch available. Order by 9 AM.
4 PM ART ON THE PORCH
Creative time with artist of the week.
AFTERNOONS
Join a walk or hike outing, explore WFC trails, enjoy Whitton Pond (swim/row/canoe), play volleyball or ping pong.
7:30 PM – 9 PM EVENING PROGRAM
Sun – Thu: Educational Program
Fri: Fun Night
Sat: Performance for all ages
7:30 PM – 9 PM
CHILDREN'S FELLOWSHIP
For ages 5 – 12, Sun – Thu
9 PM – 11 PM NIGHT LIFE
Snack bar; games, puzzles, and camaraderie; impromptu singalongs.
11 PM – MORNING QUIET TIME