WFC is a secular, unaffiliated camp and conference center offering summer hospitality, educational social justice-related workshops and lectures, outdoor recreation and creative opportunities for all ages near the White Mountain National Forest in New Hampshire.
MISSION
WFC promotes global justice and connections between people, communities, and nature through education, recreation, and creative expression.
VISION
We envision a world where people are deeply rooted
in our shared humanity and the pursuit of justice.
Mind, body, and spirit can learn, relax, and play as you opt in to educational programs, recreational activities, and informal sharing throughout the day. Community sharing continues over meals prepared for you and yours.
Engage with a variety of people – a mix of visitors, staff and volunteers – as  folks engaged with the defining issues of our time gather and share experience and hope in a wilderness setting in the White Mountains.
You can vacation or bring your work retreat or get married in this place that prioritizes progressive politics, environmental harmony, offers opportunities for the enjoyment and understanding of nature, and models organic gardening.
WFC strives to create a culture beyond kindness and inclusivity, to build respect and cooperation among all peoples. We work for liberation from the socially-constructed limits of race, class, gender, sexuality, age, abilities, experience, nationality, ethnicity and beliefs
History
This "intergenerational camp and conference center with a social conscience" has a rich history of speaking truth to power, defending civil liberties and promoting peace while valuing  issues of justice and freedom as our society shapes itself for future generations.  
World Fellowship Center was founded in 1941 by Charles and Eugenia Weller (with help from Lola Maverick Lloyd and scores of contributors), in Albany, NH on 290 acres in the White Mountains as a non-profit organization. The opening taglines: "In a time of war, prepare for peace" and "Rustic but adequate.
In 1953, Willard and Ola Uphaus became Directors during the McCarthy era. Soon after, the New Hampshire Attorney General demanded that they turn over lists of guests and presenters. They refused to provide names his committee could investigate.
Though subversive activity was never established, after six years of litigation, the US Supreme Court upheld the State of NH's 'contempt of court' finding in 1959 and Willard Uphaus spent one year, his 70th, in jail.
From this act of conscience, World Fellowship Center continued to welcome 'radicals' over the following decades: interracial couples, gays and lesbians, union organizers, the progressive left and all committed to  a more just and peaceful world
CHRONOLOGY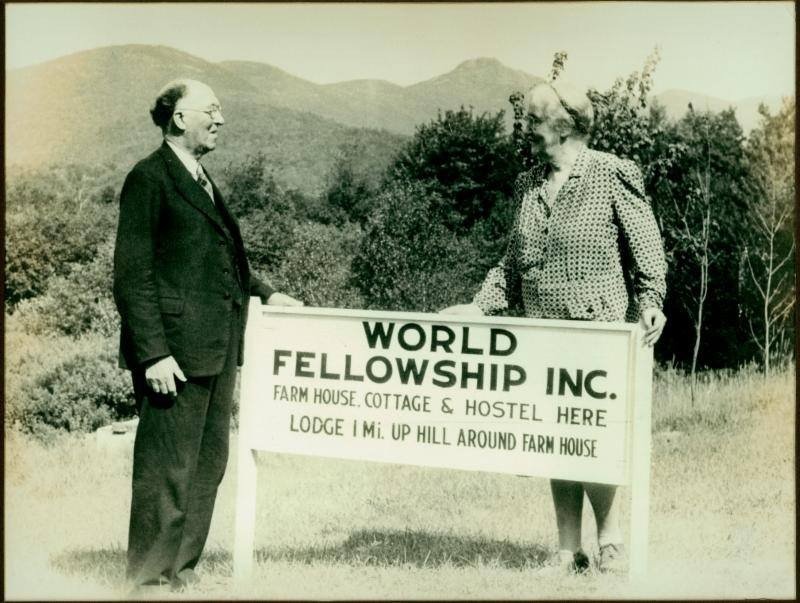 1893
First Parliament of Religions, in conjunction with World Expo, Chicago.
1918
League of Neighbors commenced working for Racial Unity
1929
World Fellowship of Faiths founded an inter-religious, intercultural peace organization, bringing together the League of Neighbors for common human unity; Union of East and West for cultural unity; and Fellowship of Faiths for religious unity.
1941
World Fellowship Center, a secular summer camp and conference center, is founded by Charles and Eugenia Weller (with help from Lola Maverick Lloyd and scores of contributors), in Albany, NH on 290 acres in the White Mountains.
The opening taglines: "In a time of war, prepare for peace" and "Rustic but adequate".
1953
Willard and Ola Uphaus became Directors in the McCarthy era. Soon after, the NH attorney general demanded that they turn over lists of guests and presenters. They refused.
1958
Purchase of Weller House and 30 acres – home of the first World Fellowship organic garden.
1959 – 1960
Though subversive activity was never established, after six years of litigation the US Supreme Court upheld the State of NH's 'contempt of court' and Willard Uphaus spent his 70th year in jail.
1970
Christoph and Kathryn (Kit) Schmauch became Directors. During the Schmauchs' 30-year tenure the Center grew to include: Children's Fellowship; weekly cultural offerings; organic vegetable gardens; 135 additional acres; nature trails; Schmauch Meeting Room…and much more.
1982
Uphaus Lodge purchased.
2001
Andy Davis and Andrea Walsh became Directors. A year-round home for directors and office built on site. Program offerings expanded to include spring and fall weddings, summer Recreation Program, Art on the Porch, additional trainings and workshops, and more.
2020
The Kathryn 'Kit' Schmauch Conservation Easement established with Upper Saco Valley Land Trust to permanently protect nearly 400 acres of wilderness and green space.

2022
Octavia Driscoll serves as Interim Executive Director, and is then succeeded by the volunteer Interim Management Committee (see below) in 2023.
Year-Round Administrative Volunteers and Staff
Volunteer Interim Management Committee
Effective Dec 1, 2022, the World Fellowship Board of Trustees appointed an all-volunteer Interim Management Committee (IMC) to manage the Center's operations through Summer 2023, or until a new Director(s) is ready to take the reins. They function as a cooperative team, though each has areas of primary responsibility, and only the Acting ED has a full-time commitment in both off-season, and summer-season.  They are:
Howie Fain, Acting Executive Director, and IMC Chair
Worcester, MA
Howie began visiting World Fellowship Center with his family in 1989, and; some of his children and then grandchildren have since served on staff. He served several terms on the Board of Trustees, starting in the mid-1990s. A new and different WF opportunity presented itself not long after he changed careers and became a middle-school science teacher in the early 2000s, with summers off; working with co-directors Andy Davis and Andrea Walsh, Howie created the World Fellowship Recreation Program and served as Coordinator for 16 years, retiring from that role at the end of the 2022 summer season. He says that his long service and commitment to World Fellowship in other capacities led pretty seamlessly to stepping into his current role.
Susan Ogden, Marketing and Outreach
Burlington, MA
Susan has been coming to World Fellowship for 20 years, with her partner, Hank Prensky, who brought her as a test of whether her values included rustic accommodations and progressive politics. Susan has been an enthusiastic participant in all White Mountain recreation, most especially Whitten Pond, where she swims several hours a day during WF visits. Some of the programs she's attended have made a dramatic difference in her perspective and commitments. Susan has a background in education, which she has parlayed into several careers including corporate sales and marketing; child welfare organization management; and state legislature lobbying.
Cat Roberts, Staff and Volunteers, Development
Holden, MA
Cat has been coming to World Fellowship with several members of their extended family for several years, and their son Ben was on staff for a couple of seasons. A longtime college professor, Cat is now leading her nonprofit professional organization, the American Mathematical Society, as its executive director. This summer, Cat will be onsite managing staff & volunteers, while spending any free time on their bike or at Whitton Pond!
Norma Wassel, Finance and Development
Cambridge, MA
Living in California at the time, Norma first came to World Fellowship almost 40 years ago while on her annual trip back to the northeast. It was only for the afternoon to see friends who were presenting on national healthcare. Single-payer is not yet a reality but World Fellowship is still here! Moving to Cambridge  Mass. a few years later, she then became a summer regular along with her family, with her two daughters later joining the staff. Norma's involvement has ranged from serving twice on the Board of Trustees to serving food in the dining hall. In addition, she organizes World Fellowship's annual fundraiser in the Boston area and has been a program presenter over the years. Being part of this community inspired her to start Cambridge Cohousing, hoping to replicate World Fellowship the whole year round!
Linda Wheeler, Finance and General Operations
Brooklyn, NY
Linda has come to World Fellowship every year since 1986, beginning when her children were 4 and 10 years. Both of them grew up here and at some point were on staff too. Eventually she became one of the three generation families. She served several Board terms and, upon retirement from the Park Slope Food Coop, was a WF staff member for 13 years. She is looking forward to being a staff member again this summer, this time being an office worker and bookkeeper. At the Coop, she was a General Coordinator for 26 years. She can't name any favorite parts because there are so many.
Year-round Staff
Matt Parks, Buildings and Grounds Manager
Tamworth, NH
Matt first came to the World Fellowship Center in 2014 as a young person looking for a way to pass some time before going back to living on the road and as a way to honor everything his grandfather taught him about fixing the world around him. He's come back summer after summer ever since because of the welcoming people, incredible learning opportunities both professionally and personally, and the beautiful and comfortable environment that WFC provides. Following Andy and Andrea's departure, Matt took on the role of full time year-round Buildings and Grounds Manager, where, in addition to keeping up with the busy summer season, in the off-season he opens and closes all of the buildings, tends to their snow and winter needs, and makes many spreadsheets and plans for the future seasons. With every second of his non-WFC time, you'll most likely find Matt working on his goat farm that he runs with his wife, Lia Geller, being the best goat papa he can be. While he doesn't know exactly what the future holds, he knows WFC will be a big part of his life and heart.
Hannah Lally, Office Manager
Tamworth, NH
Hannah Lally grew up coming to WFC and has been working on staff for many years. Her current role of Office Manager continues to grow with increasing need, supporting the administrative needs of the organization. She is responsible for maintaining the main office operations, the hub of all World Fellowship Center administrative activities. This includes booking and visitor registration, monitoring email and phone lines, updating and managing visitor registration programs, communicating within the WFC community, bookkeeping, and other administrative duties to support WFC leadership and the Board of Trustees.
Board of Trustees
The World Fellowship Center Board works to ensure that the mission of the organization is fulfilled in financial, legal and ethically responsible ways.
Stu Ball
Montclair, NJ
I grew up in Evanston, Illinois and escaped the sterility of the Midwest to go East to College. I majored in sex and drugs and rock and roll and minored as a third string jock.  Tho immersed in the heart of mainstream, conservative, privileged America, I also (probably thanks to my "major") began to discover politics. The Cuban missile crisis was the first eye opener. I went to law school as a default and because of a massive personality profile my dad paid for. There I really discovered politics via the great Arthur Kinoy (I became one of several AK groupies). We shut the law school when the U.S. invaded Cambodia – final exams were cancelled!! (the real "cancel culture"). I hitchhiked across the US in the summer of 1968 landing in Chicago for the Democratic Convention – a life shaping experience. So, when the Chicago 8 (later 7) indictments came down and I was graduating law school, I signed up. During the trial, I actually became quasi-famous – and hopelessly puffed up and self-important. After the trial I became instantly and totally unknown. That life lesson has stayed with me forever. I settled back in NJ and started a law practice (we grandiosely called it a "law commune"). 50 years, and a few professional reinventions later, I am still here. For my mid life crisis, I discovered coaching and teaching. Turns out, the opportunity to "pay it forward" is perhaps the most fun and rewarding discovery I have ever made. Now, I live in a magnificent Stateroom….on the Titanic. And renew every summer at the Pond and Soccer Field at WFC.
Patricia Cantor Petrucelly, Co-Chair
Cambridge, MA
Since the early 1970's World Fellowship has inspired me to work for social justice, to savor the natural environment, and to develop life-long friendships. I am now retired after over 40 years of public interest law practice in Massachusetts and am honored to give back by serving on the board of this unique and essential organization, particularly during these challenging times. I look forward to working to ensure that WF continues for generations to come – and that I can share many more years there with children and grandchildren and the WF community of friends, artists, and dedicated activists.
Vicma Desir
West Roxbury, MA
Judy Kaplan
Cambridge, MA
World Fellowship has been my "home away from home" since 1978. A former Board member,
I'm excited to be back on the Board during this critical transition period. I was born in Philadelphia and grew up on a chicken farm in Doylestown Township, PA. I've lived in the Boston area since 1979. I work as an editor, primarily in the fields of public health, health policy, and medicine. I've worked part-time for the federal government since 1995, first as a manuscript editor for the federal journal Public Health Reports and, since 2004, as an editor for CMS, the federal Medicare/Medicaid agency. I've co-authored two articles on the misuse of race in medicine, one published in JAMA and the other in the American Journal of Public Health.
I'm also a co-editor, with Linn Shapiro, of Red Diapers: Growing Up in the Communist Left, the culmination of a project that began at World Fellowship in the 1980s.
Sara Keenan
Brooklyn, NY
I live in Brooklyn and have been coming to WFC with my two kids, my partner and an ever growing group of friends since 2016.  I bring my passion for WFC and my years of experience working in education. I feel so grateful to the people who have stewarded WFC throughout the last 80 years, so my family has the experience of vacationing while still engaging in learning and work for justice, of connecting to the White Mountains and Whitten Pond, of having fun in an inter-generational camp and feeling a part of something bigger. I am a relatively newer member of the WFC community, but already a deep believer in it, and I want to be a part of ensuring its health and longevity for future generations.
Molly Rose Kaufman, Co-Chair
Orange, NJ
Dave Malekpour
Hanover, MA
I have been coming to World Fellowship since 1973 at age 10 and almost every summer since but for a few years here and there.  I grew up in Brooklyn, then to Brookline Ma for 8th grade. We live in Hanover MA, about 30 miles south of Boston  I have been in the music industry for nearly 35 years, and owned my company for over 30 years designing, equipping and installing recording studios and making speakers for high end professionals and artists, employing 26 people.  I grew up a child of progressive parents Judith and David Woodruff and have a blend of their social values and my business sensibility and creativity I bring to my work, clients and team. I was previously on the board about 7 years ago, and decided I wanted to rejoin in this critical transitional time to help create a stronger operating team based system. I want to make sure that my children will be able to bring their kids to WFC when they grow up.  I am a musician, audio engineer, cyclist, CrossFit addict, swimmer, vegan (mostly), lover of the outdoors and consider Whitton Pond my favorite place on earth. I love to swim out to Blueberry Island and look around to see the same view I saw for the last 49 years and find my ground every time I am there.   I'd like to find a way to bring more music and arts to WFC, as well as incorporate more physical activities that the space lends itself to.  I hope to facilitate positive changes, create a sustainable model for the future built on team work, volunteerism and make sure everyone has fun as we build this stronger for now and future generations.
Marc Mauer
Silver Spring, Maryland
I am recently retired after a career in criminal justice reform, serving as Executive Director of The Sentencing Project in Washington, DC. My work involved engagement in policy research and advocacy to challenge mass incarceration and racism in the justice system. I bring to World Fellowship decades of experience in non-profit management, fundraising, and program development. Our family has been coming to World Fellowship for 30 years, and I particularly cherish my time hiking in the White Mountains, biking along the back roads of New Hampshire and Maine, and the camaraderie among long-time friends.
Ellen Perlstein
New York, New York
Ellen has been coming to WF every August for 22 years with her significant other, David Dosamantes who has been coming to WF for over 55 years. Ellen works in business development for a human resources consulting firm marketing executive coaching and outplacement services to heads of Human Resources for corporations and thinks of herself as a corporate social worker given how these services can improve individual's lives in critical ways. 
Originally from Chicago, Ellen came to NYC to get her MA in Teaching English as a Second Language  and still loves living in NYC as long as she can escape it regularly. While in college, she volunteered for Unesco in France, and Turkey and then later studied in Paris as well as lived on a kibbutz in Israel. She looks forward to working on the board to support WF to grow, thrive, and become that special unique place for others in the way it has been for herself.
Tomas Rodriguez
Brooklyn, NH
Tomas is a New York City based guitarist who has captivated audiences nationally and internationally.  He has performed at International Festival of the Guitar in Lima, Peru, the Brooklyn Museum, Merkin Hall, and Trinity Church in New York City as well as the New Jersey Center for the Performing Arts (NJPAC), the World Expressions Series at Boise State University and the University of Virginia.  He has commercially released three full length albums: Guitarra de mi Alma, Dialogue, and most recently, Ruminations.  A dedicated music educator, Tomas also runs a unique honors-level guitar program for young people in Brooklyn, using African, Latin, Flamenco, Jazz and Classical styles to teach beginners to advanced students.  Previously, he founded and directed an innovative after-school guitar program at one of New York's largest Latino social service organizations.  He is a registered Suzuki guitar instructor and has also taught at the Brooklyn Conservatory of Music.  In the 1990's, Tomas worked at the Association of Hispanic Arts, Henry Street Settlement and the Hispanic AIDS Forum doing program planning, organizational development, and grant writing work.  Some of these organizational skiils were passed on to Tomas by his father, who trained with some of the founders of strategic planning in the late 1960's and worked as a lead strategic planner with government agencies and corporations in the US and in Latin America.   Tomas is a member of AFM Local 802 and ASCAP.
The Acting Executive Director and members of the Interim Management Committee serve as ex-officio members of the Board.
STANDING COMMITTEES OF THE BOARD
Committees, which may include WFC community members confer between board meetings making recommendations for board decisions. The board defines the purpose and tasks for each committee. A member of the IMC serves on each committee. Board members serve on at least one committee or task force.
Finance – Works to ensure sound financial management of World Fellowship Center.
Governance – Attends to matters of the Board's financing. This includes Nominations functions.
Development – The Development Committee works to invite and support community collaboration in fulfilling our mission, including raising necessary funds and supporting relationships with the community of supporters and friends.
Task Forces:
Buildings and Grounds
Outreach
Events
Transition Task Force
Contact the Board of the World Fellowship Center through office@worldfellowship.org